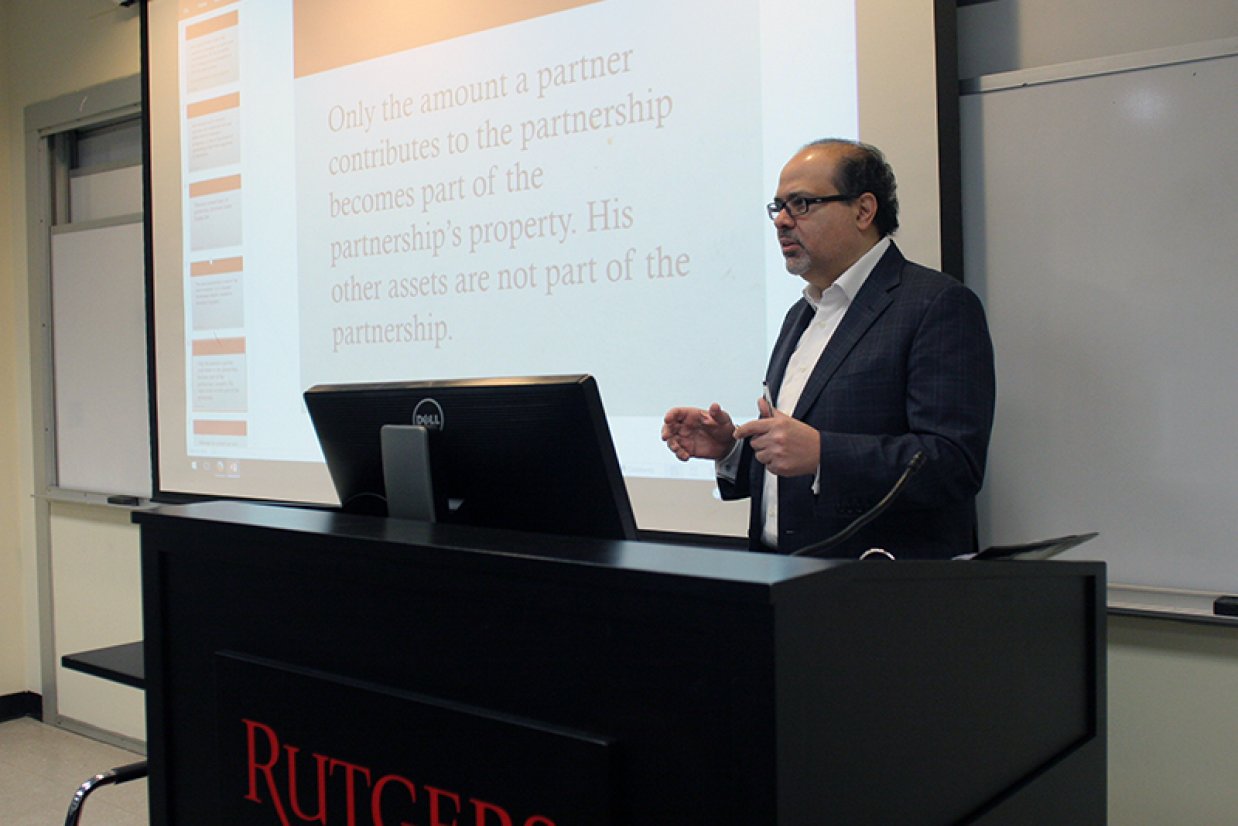 The first-ever spring-break "flash" courses were offered last week to students interested in pressing social-justice issues.
Spring break is serious business for college students. Most take full advantage of the week long respite to travel, relax at home or perhaps work to make extra money. But a handful of industrious RU-N undergrads redefined what it means to be serious about spring break by staying in school.
They did so compliments of one-credit "flash" courses offered by some equally dedicated deans, provosts and lecturers, who used last week to teach students about compelling topics ripe for our tumultuous and rapidly changing times.
FASN Dean Jan Lewis and School of Law Dean Ron Chen teamed up on a course titled "Civil Liberties in Times of National Crisis." Rod Brunson, Dean of the School of Criminal Justice, and Executive Vice Chancellor Jerome Williams offered a class called "Living While Black: Examining Racial Profiling Across Contexts." And Abed Awad, a lawyer and part-time lecturer in the School of Law, taught a course on "Islamic Banking and Finance."
The 15-hour courses ran all five days during the break, three hours per day (10am–1pm), and included lectures, guest speakers, readings, discussions and take-home exams. Nearly 50 students enrolled in the classes.
Lewis and Chen taught nine students in their course, an impressive turnout given the lure of a week off from school. This was not lost on Lewis.
"One student in my class said, 'Well, on break I'd be sleeping til 1 in the afternoon anyway. I might as well take a course during that time and learn something,'" she says.
The courses, which had no prerequisites and are the first of their kind offered at RU-N, emerged from discussions among members of the Chancellor's Executive Team and Deans right after the 2016 presidential election. The group wondered how to best serve students during this unsettling time. Chen suggested teaching "flash" courses on social-justice issues of immediate concern to the RU-N community.
The initiative came together quickly. The group came up with three inaugural courses and sent out an announcement and call for enrollments via email to all RU-N students just a few weeks ahead of the classes.
Civil Liberties in Times of National Crisis
Jan Lewis and Ron Chen's class used historical examples of court cases involving civil liberties during crisis and wartime (Civil War, Reconstruction, etc.) to frame discussions of the U.S.'s current predicament under the Trump administration. Chen focused on legal issues, while Lewis, a professor of American Colonial History, provided historical and political context.
They found their preparations dovetailed naturally, each seeing the value of bringing in the other's material into future courses they might teach on their own. They also felt the class was a powerful argument for more interdisciplinary teaching at RU-N.
The course format also lent itself perfectly to addressing current issues. In fact, Chen was interpreting a new court order the day they'd found out about it on the news.
"Current events were giving us class material literally as we were teaching," says Chen.
Living While Black: Examining Racial Profiling Across Contexts
Rod Brunson and Jerome Williams taught a pared-down version of a course that Williams has offered in the past, which helped their 16 students distinguish between overt and implicit racism, and understand why some people of color challenge the notion of a "post-racial" society.
The pair brought together their diverse experience and scholarship. Brunson talked about discrimination and profiling from a criminal-justice perspective—police stopping people—while Williams took a business and marketing angle, looking at pricing differentials at similar stores in different neighborhoods and product marketing to minority groups like African Americans.
Sara Acevedo, a senior majoring in criminal justice, loved the course's relevance.
"I didn't need the credit, but I took the class just to learn," she says. "This topic caught my attention, especially given the current climate against minorities. I see a lot of discrimination as a Hispanic person and wanted to learn more."
Islamic Banking and Finance
Lecturer Abed Awad, who has been teaching at RU-N's School of Law since 2003, gave an intensive introduction to Islamic banking and finance, discussing the moral and ethical underpinnings of the Islamic moral economy around issues of debt, usury and interest; uncertainty; absence of corporation and modern limited liability; inheritance; and charitable contributions. He also looked at Islamic law governing contracts, property, business transactions, sales, leasing, partnerships, bonds and mutual insurance.
"This has become big business both in the U.S. and abroad, as our world becomes increasingly globalized," says Awad. "But we need to make sure that law and investment firms retain the original progressive intent of Islamic banking. That is key."
The class had 23 students, many but not all of them from RU-N's Business School, and it was eye-opening for the majority of them.
"We learned a lot not just about the Islamic moral economy but also shari'ah law in general, dispelling common misconceptions about it and learning how it actually works," says Dina Sayedahmed, a senior majoring in Journalism and Political Science from Bayonne, N.J. "As I move onto the 'real world,' I want to live my life honorably and ethically. I believe this course helped me understand the more conscientious options that I have for investments and loan extractions."
Top photo (by Lawrence Lerner): Lecturer Abed Awad offered the Islamic Banking and Finance "flash" course.
Bottom photo (by Nora Luongo
Nora Luongo provided additional reporting for this story.